Prince William & King Charles Have 'Strengthened Their Bond' Unlike Ever Before — Thanks To WHO?!
Prince William and King Charles III's relationship is thriving these days — and they have two people, in particular, to thank!
On Wednesday, a source close to both royals opened up about the father-son relationship, which has never been closer than it is now! While they still have a bit of a nontraditional familial relationship, they've leaned on each other in the last few weeks following Queen Elizabeth II's death on September 8.
Related: Prince Harry Gives Super Sweet Update On Archie & Lilibet In New Video!
While speaking to People, the royal insider revealed the 40-year-old and 73-year-old have bonded over their new roles as well as the deaths of Prince Philip and Queen Elizabeth, the source shared:
"Talking about the future of the country and their future roles has strengthened their bond."
Of course, upon his mother's death, King Charles ascended the throne, with his official coronation set to take place on May 6. He also bestowed a new title on his son — Prince of Wales. It's a traditional title for the heir to the throne. Additionally, William is the new Duke of Cornwall, which comes with the Duchy of Cornwall, an estate of farmland, property, and commercial businesses worth around $1.3 billion. Last year, it provided Charles with an income of about $25 million. Take about a nice inheritance!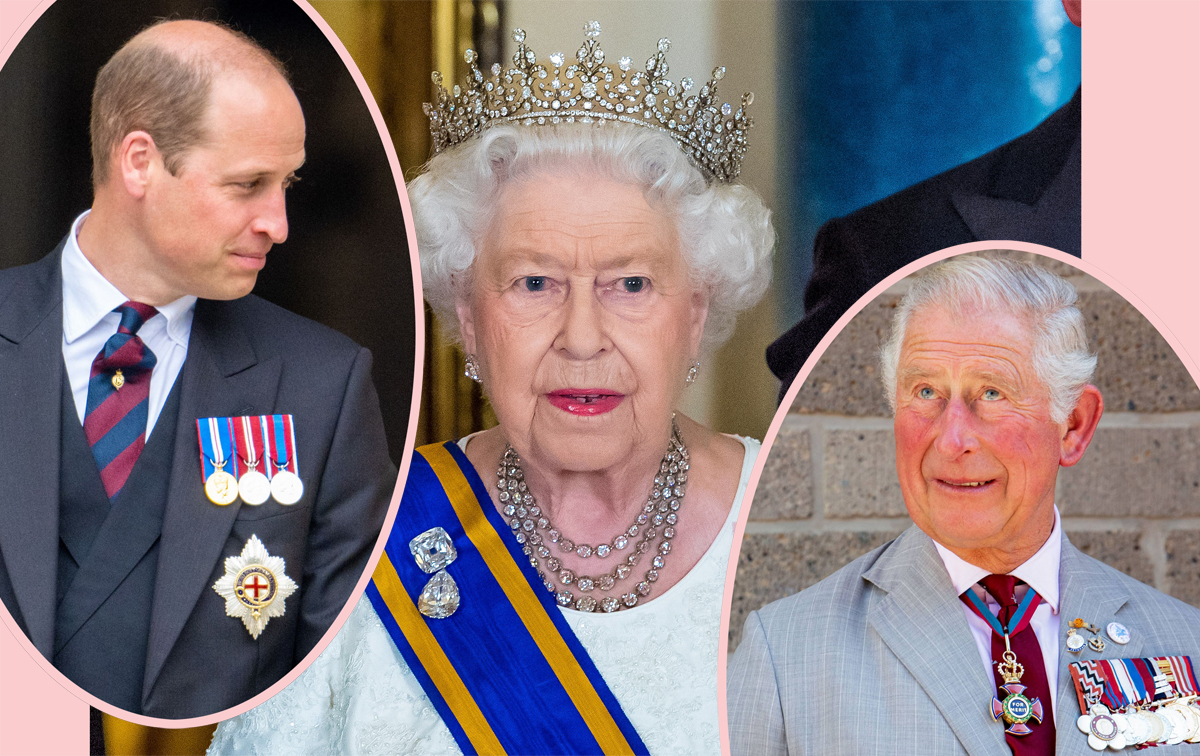 William is planning to take after his father's footsteps while maintaining the Duchy, the source noted:
"He is going to very much take an active role in it."
Back in October 2019, Princess Catherine AKA Kate Middleton's husband hinted at his desire to run the place similar to his father, telling farmers in the documentary Prince Charles: Inside The Duchy of Cornwall:
"I've started to think about how I will inherit the Duchy one day. Well, rest assured I'm not going to rock the boat; I'll do much the same as what my father's doing. I'm not so into the architecture — that's the only thing."
But the Queen isn't the only one who's had a hand in bringing these men together! They've also got Prince Harry — of all people — to thank!
Related: Royal Family 'Hugely Nervous' About Harry's Upcoming Memoir
With so much change these days, it's no surprise their relationship is getting stronger, but they originally reconnected and relied on each other when Harry left the UK with his wife Meghan Markle in 2020. The youngest's departure from the royal family "brought [William and Charles] closer."
The Duke of Cambridge has also proven himself useful to the new monarch. Remember during the King's televised ascension ceremony following the Queen's death how he had a temper tantrum over a pen? You can relive the moment (below).
"I can't bear this bloody thing!": King Charles' signing ceremony at Northern Ireland's Hillsborough Castle made one thing clear – even royalty can't escape the frustration of an inadequate pen. pic.twitter.com/nzygNTLslX

— CBS News (@CBSNews) September 13, 2022
LOLz!
We've all had one of those moments! And considering he was grieving the loss of his mother and adapting to so much change at once, it makes sense. Still, it wasn't the best look for the new King, and William knew it. Apparently, William (and his calming presence) helped soothe the upset royal at the moment, "defusing the situation," the insider revealed. Hah!
It's good to see these two are getting along better… though it doesn't bode too well for their feud with Harry! We have to imagine a two-against-one dynamic isn't going to help anyone. Reactions, Perezcious readers? Are you surprised these two have bonded or does it make sense all things considered? Let us know your opinions (below)!
The post Prince William & King Charles Have 'Strengthened Their Bond' Unlike Ever Before — Thanks To WHO?! appeared first on Perez Hilton.