It's a lock: Miami-Dade commission wannabes qualify for Aug. 23 election
At noon Tuesday, former Miami Beach Commissioner Micky Steinberg became a Miami-Dade county commissioner after nobody qualified to run against her in District 4, where Sally Heyman is termed out.
It is the only county commission race that is uncontested — maybe the $400K she raised scared would-bes away — as 19 other candidates qualified in the five other districts on this year's ballot.
We still have a clusterbunch in District 2, to replace Jean Monestime. But where once there were ten candidates, there are now six: Wallace Aristide, principal at Miami Northwestern Senior High, former North Miami Mayor Josephat "Joe" Celestin, Monique Nicole Barley-Mayo, who ran for countywide mayor in 2020 (and now we know why), Marlene Bastien, executive director of Haitian Women of Miami, North Miami's current Mayor Philippe Bien-Aime and William Clark, a retired paramedic and community activist.
According to the latest campaign finance reports, the most money has been raised by Bastien, with almost $218,000 collected. She is followed by Aristide, with $171,000 (including $18K loaned to himself), and Bien-Aime, who has raised more than $112,000. Clark has reported a little more than $60,000 and Celestine reported $26,300. Only Barley-Mayo has reported not raising any funds whatsoever.
Read related: Five open seats on county commission = Miami-Dade voters to see new, old faces
In District 6, as Ladra predicted, State Rep. Bryan Avila jumped ship so he could run for state senate. And Orlando Lamas, an architect who had loaned himself close to $150,000, did not qualify. So they're out.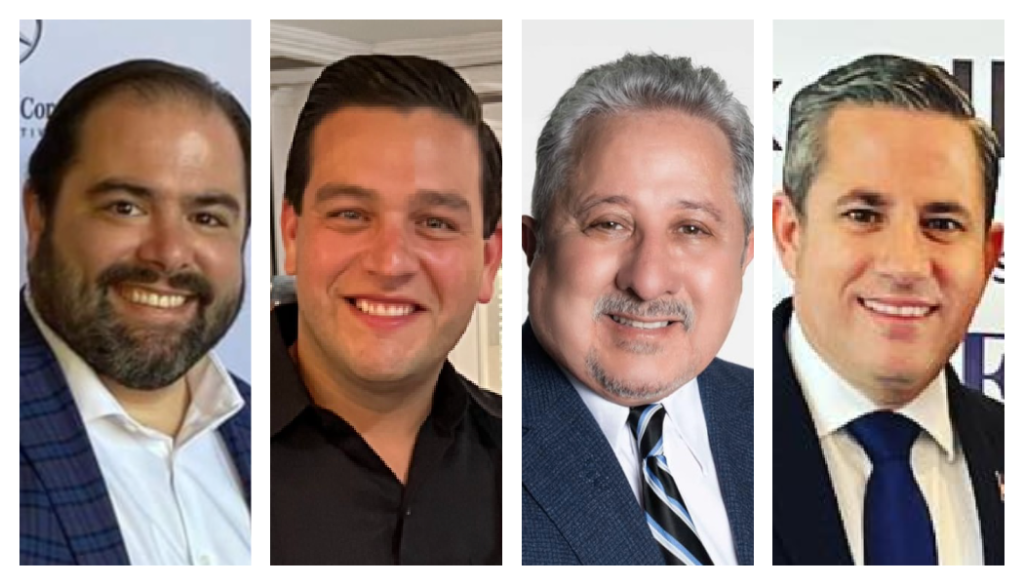 That leaves local instigator and insurrection-supporting Kevin Marino Cabrera, husband of state rep. Demi Cabrera Busatta, against Coral Gables Commissioner and tax cheat Jorge Fors, Miami Springs Councilman Victor Vazquez and Radio Paz host Dariel Fernandez, who owns Ponemus Group, a marketing, consulting and technology software development firm.
Fors has the blessing of term-limited Commissioner Rebeca Sosa — and a whopping $184,400 raised just in the first month. Okay, that includes $51,000 he brought in from his Gables account. Fors has already spent $40K, including a $21,000 mailer, $8,000 worth of t-shirts and door hangers and $3,250 on a ballroom for some event.
Cabrera, a lobbyist and former constituent services director for one-time congressman Carlos Curbelo, has spent just over $32,000, including $16,000 on a mail piece, $6,900 on a phone bank and $5,750 on text messaging — although it seems a little early for that. He still has $120,000 of the $150,000 Cabrera raised in just one month. Maybe that's because the 2020 Trump campaign state director got the former president's endorsement already.
Read related: Florida Bar investigates candidate Jorge Fors for homestead fraud
But maybe that's because Cabrera was caught on camera at mob protest of Donna Shalala's 2018 campaign office, when Speaker Nancy Pelosi visited. Pounding on the door next to members of the Proud Boys, Cabrera looked like the thugs in the Cuban regime's actos de repudio. The group chanted "Nasty Pelosi" and "brujas," calling the women witches. In hindsight, it may have foreshadowed the Jan. 6 riot on the Capitol. It would not surprise Ladra if Cabrera was there, too.
Vazquez raised just over $21,000 Fernandez has raised $40,480, but he has already won one contest in 2022: He was named "Man of the Year" by the South Florida Hispanic Chamber of Commerce, according to his website.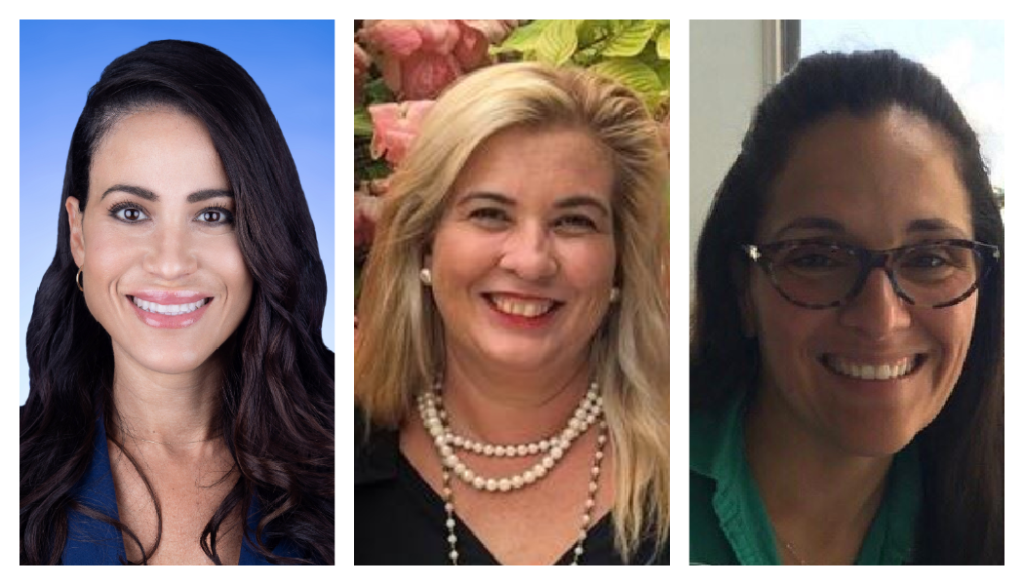 Only the District 8 race is not an open race. While Commissioner Danielle Cohen Higgins was appointed to replace Daniella Levine Cava, she is still an incumbent. An incumbent who is now facing two challengers.
Alicia Arellano, vice-chair for the Hammocks Citizens Advisory Committee, has been campaigning and raising funds since March of 2020, which is sad considering she has raised only $2,300, as of the last campaign finance report. The new wannabe is Karen Patricia Baez-Wallis, who resigned as director of emergency services at Jackson South to run for office. She hasn't raised any money yet, but was recognized by Palmetto Bay last year for having organized the Jackson South employee vaccination program, a model that was mirrored in the village's vaccination program.
Many thought that Palmetto Bay Mayor Karyn Cunningham would challenge Cohen Higgins. The two have been at odds since the latter was appointed. But Cunningham has said she is running for re-election. Former Palmetto Bay Councilman John DuBois, withdrew from the race a while back.
In District 10, two new candidates came in within the last few days so it's no longer a head to head between Libertarian cannabis advocate Martha Bueno and Republican State Rep. Anthony Rodriguez. The newcomers are IT tech company owner Julio Cesar Sanchez and former federal law enforcement officer Susan Khoury.
Neither one of them have reported any fundraising yet, but last month, Khoury — who won a $45,000 settlement last year for an illegal arrest by Miami-Dade — won a $525,000 jury award in a lawsuit against the Miami Dade County Public Schools Police for illegally Baker Acting her when she was taking photographs of cars parked at Glades Elementary School, which is across the street from her house. So she can self fund.
Rodriguez has reported raising $324,000 and Bueno has raised just over $20K.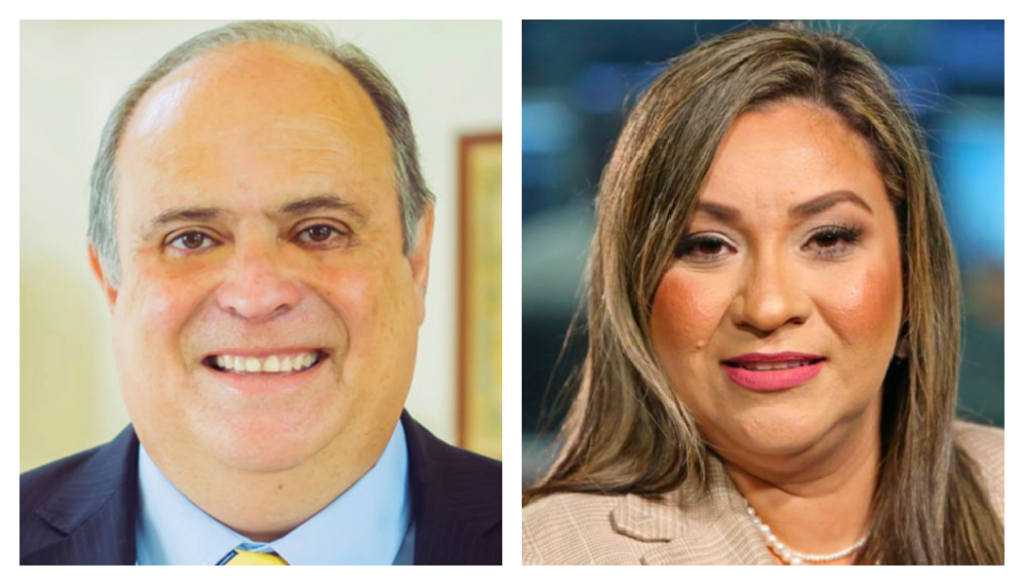 The District 12 race is the only one that will definitely be decided on Aug. 23. In the other districts there are more than two candidates and someone has to win by 50 percent plus one to avoid a runoff in November. But we'll all know in two months who will replace Commissioner Jose "Pepe" Diaz — Doral Mayor JC Bermudez or former Sweetwater Councilwoman Sophia Lacayo, who was forced to resign after she pled guilty to perjury because she didn't live in the city.
Read related: Booted off Sweetwater Council, Sophia Lacayo aims for county commission
These two candidates could spend more than a million dollars between them. Or maybe Lacayo could spend a million herself. She's already reportedly spent more than $400,000.
Bermudez has reported raising $321,945 and spending $42,500.
Lacayo has reported raising $531,945. But that number shrinks down to less than 10%, or $36,325, when you take out the half million Lacayo has loaned herself for the campaign. And there's no reason to think there won't be more to come. Especially since she's already spent $417,288.
That includes around $200,000 for advertising and $50,000 for a Mother's Day event. It is not a bare bones campaign.
Lacayo loaned herself more than $100K just last month in the last two of seven payments for very specific amounts, like $49,944.94 and $53,750.01 or $69,741.22. It's like she's playing the lotto.
Well, maybe they all are. Or maybe that's what voters will do Aug. 23.