Dozens of referendums on November ballot for voters in 9 Miami-Dade cities
Miami Beach voters might think their Aug. 23 ballot is fat, with six city referendums put to them. Just wait until November.
There will be eight ballot questions about the changes in the city charger and proposed developments on the November ballot. Eight! Miami Beach has the most questions on the ballot, followed by Key Biscayne, which has seven. Seven! South Miami is next with five charter amendments, including one that will increase the mayoral term from two to four years.
Another South Miami charter amendment seeks to make it easier for developers to build in the city. Currently, there needs to be a unanimous vote for land use and zoning changes outside the commercial core of the city. This amendment would let the city commission make citywide land use and zoning changes by a supermajority, or four out of five votes.
Ladra predicts a lot of mail on that one. And more political action committees are coming. Lots of people are going to make lots of money.
Read related: Miami Beach voters have six questions on Aug. 23 ballot — and 2 new PACs
The deadline to submit ballot language for any November questions was Friday and a few cities came in just under the wire. Miami Commissioners approved on Thursday a referendum on a no-bid lease for the Hyatt Regency (more on that later). And Sweetwater commissioners actually approved their ballot language on Monday (they had sent a draft to the county's elections department last week) for a charter amendment that, if approved, would require all elected officials "to continually maintain their domicile within the city limits as a continuing condition to eligibility to hold office."
In other words, they can't move out of Sweetwater once they are elected. They need a law for this? It's not a given?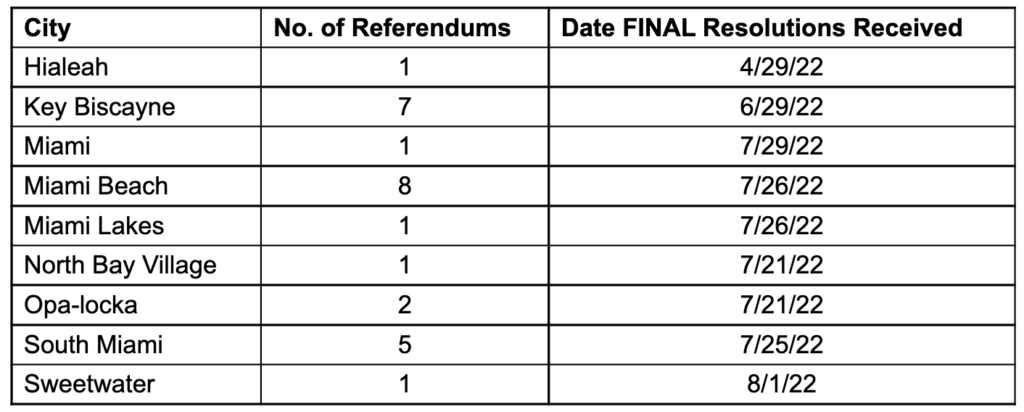 Hialeah was the first to submit ballot language, way back in April, for a charter amendment that will change the first day of the next mayor's term from three days after the election to noon on the second Monday in January. This will take effect in 2025 — basically meaning that Mayor Esteban Bovo wants to guarantee himself another six weeks or so in office.
Miami Lakes and North Bay Village also each have one ballot question for their voters and Opa-Locka has two, but they're almost identical. One would increase monthly salaries for mayor and city commissioners from $550 to $1,000 a month and provide them with life and medical insurance. The other would provide the raise, the life and medical insurance and a $300 monthly vehicle stipend. Like the $300 car allowance is the deal-breaker?
Read related: Special interest money abounds in Miami-Dade D2 campaign reports
Additionally, every voter countywide will have six other questions to answer: Three state constitutional amendments, two county charter amendments and one school board referendum for yet another bond or tax "to continue improving compensation for teachers and instructional personnel and to improve student safety and security." Advocates say it is needed because state law now requires the public school system to share funds with charter schools (more on that later).
In fact, there will be more on all of this later. It's a lot. So Political Cortadito will be here to go through all these ballot questions and let voters know what they are really doing with their yays and nays.
But, again, that's in November. So let's get back to the primary first.