Renier Diaz de la Portilla was 'fired' as a Miami-Dade assistant public defender
Former colleague says he used her in a hit piece without her knowledge
Miami-Dade County judicial candidate Renier Diaz de la Portilla, a one-time state rep and two-time Miami-Dade School Board member, has not had the kind of legal career he had hoped for and was forced to resign from the Miami-Dade Public Defender's office, after less than three years there.
He must not be a very good attorney. Which is why he listed his net worth as negative $91,666, according to his financial disclosure. He also said he makes $100,000 a year as a private attorney — working out of his parents' mattress warehouse in Allapattah.
This is the second time Baby DLP, the Fredo of the political dynasty, tries to get elected to the bench. He lost to Veronica Diaz in 2014. He has also lost races for state rep (2012 to Manny Diaz, Jr.) and county commission (2020 to Eileen HIggins).
In between the failed judicial and county campaigns, Diaz de la Portilla managed, somehow, to get a job as an assistant public defender in the domestic violence division. He started at $45,000 a year and was making $48,000 a year when he left almost three years later.
According to many reliable sources, he was a problem employee from the day he joined the office in January of 2015. Words used repeatedly to describe him include unstable, entitled, lazy, absent.
Read related: Renier Diaz de la Portilla uses brother's PAC to attack with lie in judicial race
Running now against Miami-Dade County Judge Fred Seraphin, one former colleague said Renier Diaz de la Portilla shouldn't even be elected as a safety patrol officer at an elementary school.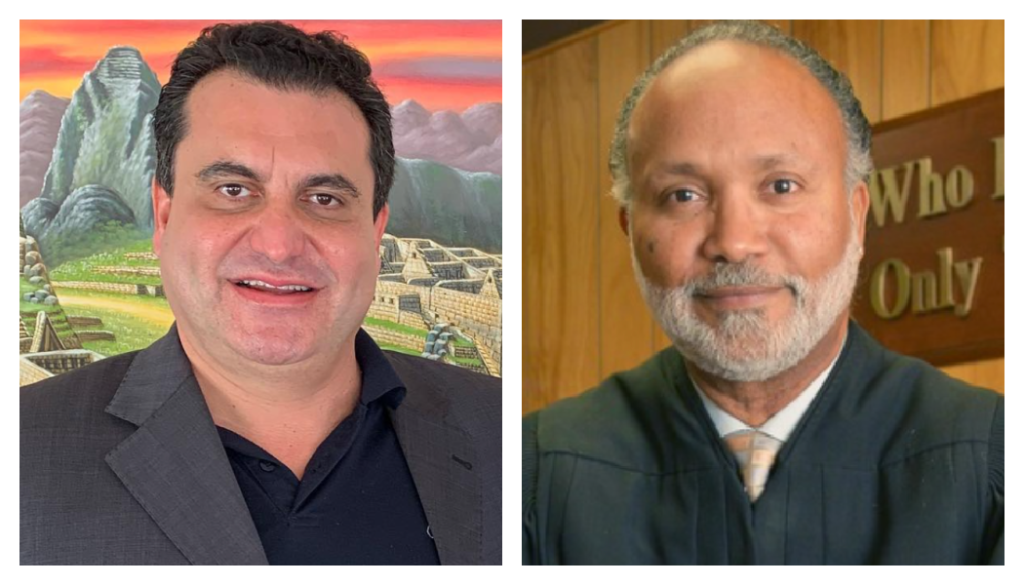 He had violent mood swings and became insanely and instantly irate for no good reason. He was chronically absent. He blew off his bosses and was disrespectful to other attorneys who had to pick up his slack.
Most problematic was his treatment of defendants: Diaz de la Portilla pled cases out when he could have or should have fought for clients who now have criminal records that could have been avoided. He took the easy way out every chance he got.
Maybe he was drinking on the job, like his big brother, Miami Commissioner Alex Diaz de la Portilla?
Renier Diaz de la Portilla did not return calls and texts to talk about his employment with the public defender's office. The official records show that Baby DLP resigned as a public defender Oct. 13, 2017. But las malas lenguas say he was given that option before he was terminated.
Miami-Dade Public Defender Carlos Martinez told Ladra that it was his policy not to talk about former employees. He referred questions to the human resources department, whose policy for resignations is a 30-day notice.
Read related: Candidate Renier Diaz de la Portilla doesn't meet judicial canon standards
According to public records obtained from the public defender's office by Ladra, Renier DLP's separation of employment was on Oct. 13, same day as the atypically long resignation letter which seems to go out of its way to sound legit. As if Diaz de la Portilla knew there would someday be a public records request for it.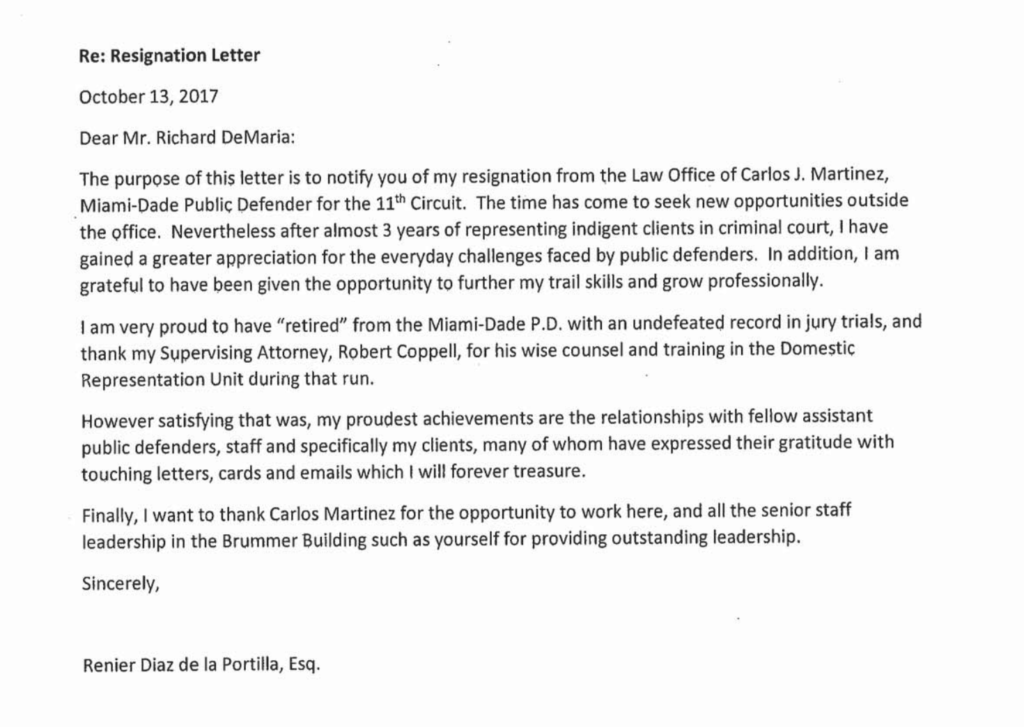 But he couldn't help but put the word "retired" in quotation marks.
Another document in his separation file is a signed note where he acknowledges picking up two boxes of "personal belongings" — including six picture/degree frames and two additional art frames — from Facilities Manager Lizzie Rodriguez on Oct. 23. People who resign on their own accord generally take their things with them when they leave in 30 days.
It's also telling that Renier Diaz de la Portilla had three supervisors, but he only mentions one in his resignation letter.
One of the other supervisors was Marissa Altman Glatzer, who was used without her permission in a hit piece against Seraphin paid for by the DLP brothers' political action committee and in voters' mail boxes last week — for the second time in some homes. The flyer quotes her from a 2015 news story about being denied breaks to pump breast milk during a trial in Seraphin's court.
"I was never consulted nor was I asked for permission to use my name," Altman posted on Facebook. She has told friends that the issue was resolved years ago after Seraphin apologized profusely.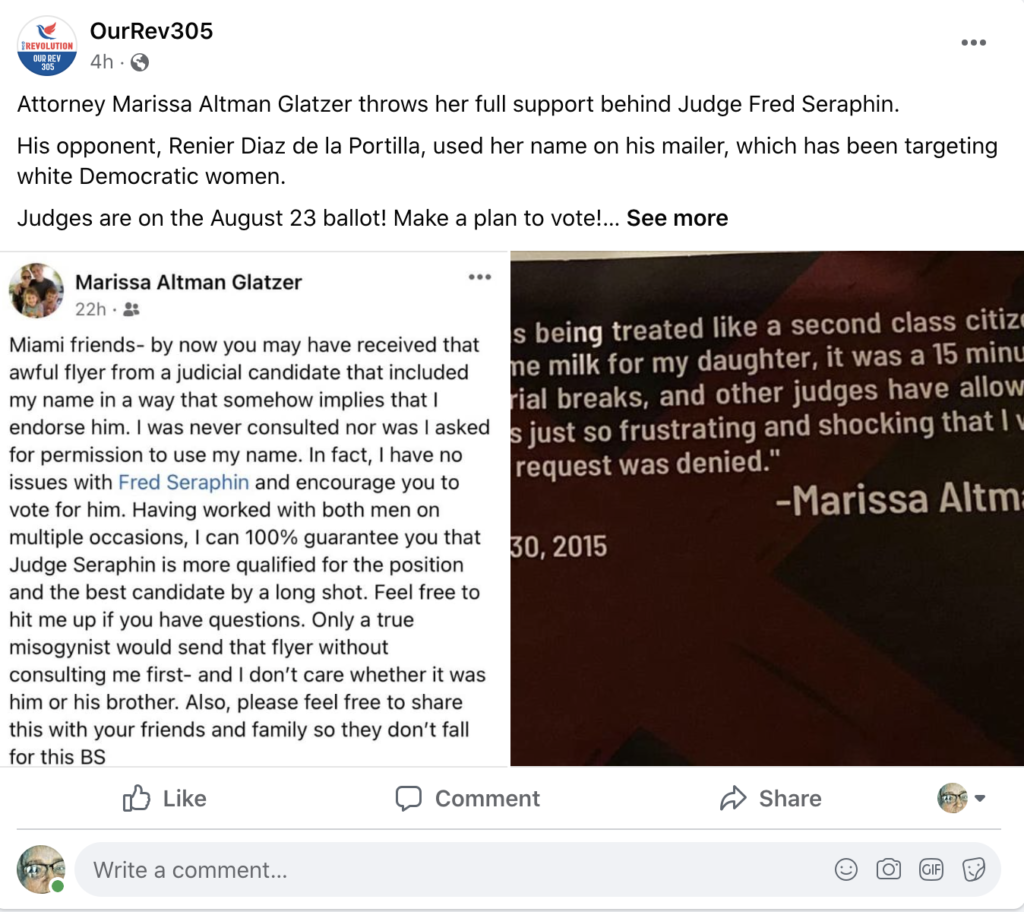 "In fact, I have no issue with Fred Seraphin and encourage you to vote for him," she posted. "Having worked with both men on multiple occasions, I can 100% guarantee to you that Judge Seraphin is more qualified for the position and the best candidate by a long shot."
It's not like Renier couldn't ask Glatzer for her permission. She was his supervisor. He has her cell phone number.
Martinez would not say who he was supporting. But he did say that Seraphin not only immediately apologized to Glatzer but visited his office to personally apologize the the public defender. "He owned up to it. He came to this office to immediately apologize and said he would not do it again," Martinez told Ladra.
Read related: Renier Diaz de la Portilla raises judicial race funds from big bro's city interests
Several attorneys and political observers have said they will file a bar complaint because of that piece. His license should be yanked permanently. Even if he is miraculously elected, simply because he is a Hispanic running against a black judge in a countywide race, experts expect Diaz de la Portilla to be removed by the Florida Judicial Qualifications Commission almost immediately.
Because he is simply not qualified.
It's time for Renier Diaz de la Portilla to try something else for a living.
Renier Diaz de la Portilla/Miami-Dade Public Defender file by Political Cortadito on Scribd