Polls test Ken Russell, Annette Taddeo in CD27 primary and vs incumbent
The phone call came in Monday afternoon. "Jaime," if that is her real name, was surprised that the person who answered was not just willing but happy to participate in a survey about "important issues in Florida." Ladra just loves these calls.
Turned out to be one of many recent polls for the congressional primary in District 27, testing message points on both Miami Commissioner Ken Russell and State Sen. Annette Taddeo, both of whom jumped into this race from another contest (U.S. senator and Florida governor, respectively), to go against Republican Congresswoman Maria Elvira Salazar.
In the gubernatorial contest, Taddeo was trailing both Charlie Crist and Nikki Fried — in both polls and money raised. But everyone said she had a poll where she beat Salazar, another top Democrat Party target. Miami-Dade Commissioner Eileen Higgins cited the poll when she withdrew immediately after announcing an eye for the congressional seat.
Read related: Sen. Annette Taddeo shifts from Florida guv's race to congressional bid in CD27
This week, her campaign released results from a May poll of 400 voters, which shows her in a dead heat with Salazar. Despite enviable name recognition (87%!), Salazar — a former Spanish-language television journalist — leads Taddeo by just two points head-to-head, with 47% against 45%. That's comfortably within the five-point margin of error.
What's more, Taddeo flips that lead 48% to 45% after the participants heard positive biographical messages about her.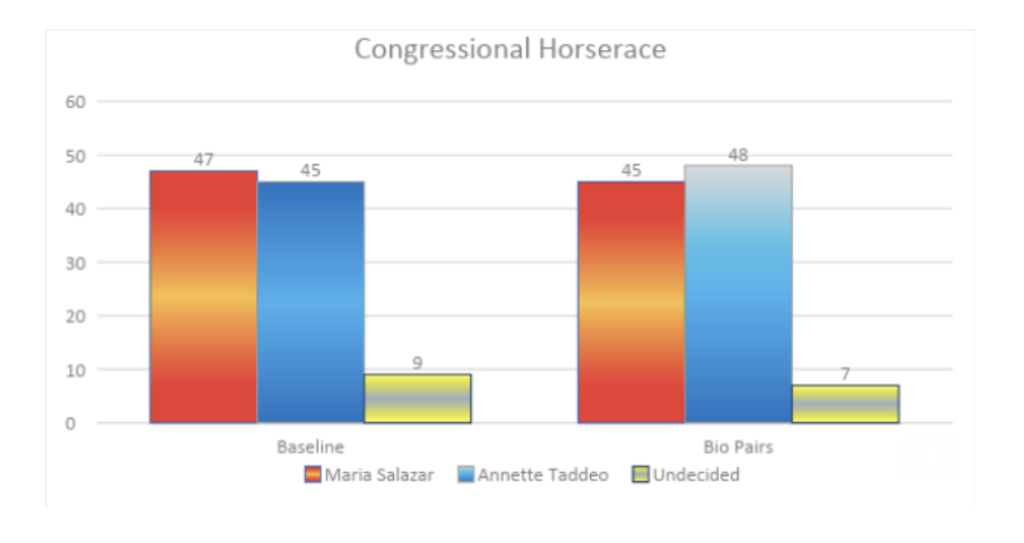 "This poll confirms that Sen. Annette Taddeo is the best candidate to flip this seat from red to blue and beat Rep. Salazar this November," said Nick Merlino, Taddeo's campaign manager. "Her story of resilience and unifying message resonate with the voters of this district and I'm confident that over the coming weeks and months she'll earn the trust and support of the community."
The campaign also released results from a June poll that show Taddeo beats Russell in the primary by a whopping 36 points with 51% to 15% in the first response. After reading positive biographical messages about both of them, their scores go up: Taddeo's support soars to 71% and Russell's rises to 19%.
A third candidate got no more than 2% and the rest are undecided. Both polls were done by Sarasota-based SEA Polling & Strategic Design.
That brings us back to Jaime and the June 27 call. Not ours, Merlino told Ladra. "Monday was probably mine," Russell told Ladra. And some of the questions asked did make it seem his. Russell hasn't released any results yet.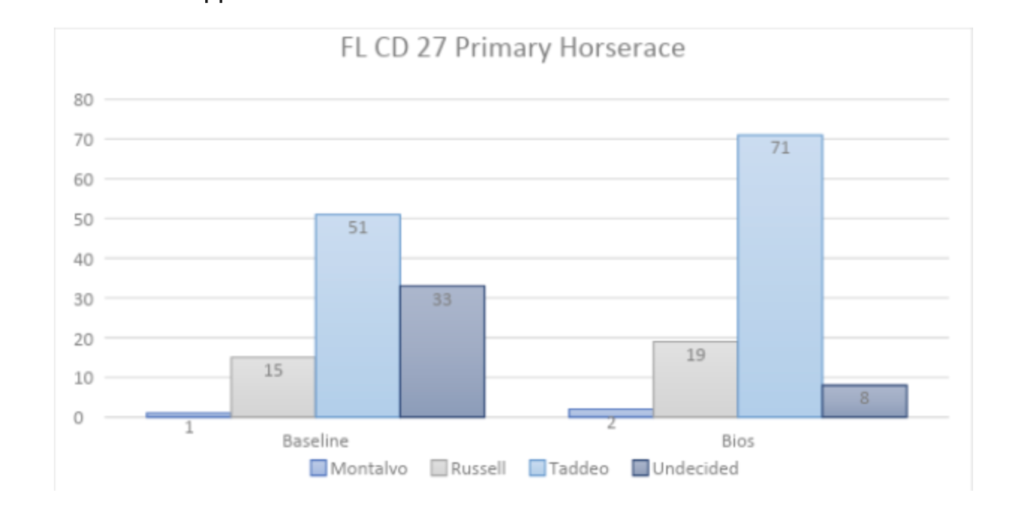 Jaime did ask for the voter's opinion of both Salazar and Gov. Ron DeSantis. She giggled when she heard the answer. Then she asked the voter to rate the "important Florida" issues and whether they were critical, very important, somewhat important or not important at all. Among them were inflation, cost of housing, the COVID response, the war in Ukraine, Don't Say Gay, gun control, crime and criminal justice reform.
Read related: Ken Russell's about face on Miami Freedom Park vote seals political fate
Then she moved on right away and spent the rest of the call on CD27.
First, she asked if the voter's opinion was favorable or not about each of the candidates. There was also a "do not know" category, which was likely used most for Angel Montalvo.
Taddeo was described as the self-made daughter of an American fighter pilot who fled the violence in Colombia, worked her way through college, helped her parents rebuild after Hurricane Andrew and started her small business before she led the fight against DeSantis' anti-freedom agenda. Russell was painted as a local yokel who ran for office because his kid's park was contaminated but has risen to take on toxic algae, sea level rise and limits on campaign contributions. He also champions the $15 hourly minimum wage.
The caller asked at least four times who the voter would choose "if the election were today," in between a series of "if you knew" questions asking for answers that range from very convincing to not at all convincing. They if you knews on Taddeo were mostly negative.
Would you be more convinced or less convinced to vote for Russell if you knew Taddeo "happily accepts Big Sugar money" or that she "constantly runs for office … instead of taking care of her constituency." Jaime also said that she was one of the "few liberals to get a thank you note from the NRA" after her vote on the Marjorie Stoneman Douglas bill after Parkland.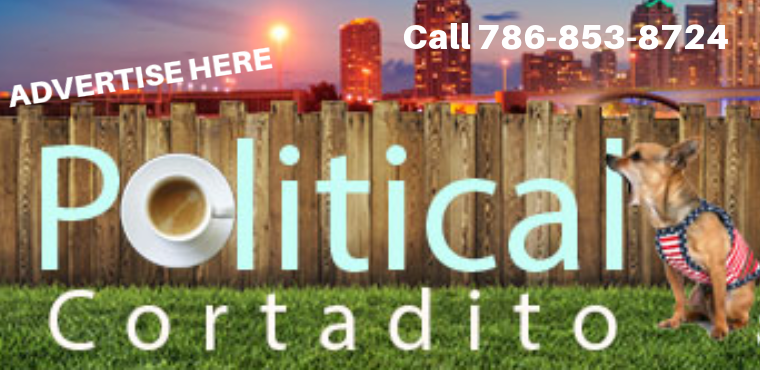 What she voted against was arming teachers. But that doesn't matter to the pollster. They are gauging the message.
Russell, on the other hand, speaks a bunch of languages and had pushed for a $15 minimum wage, was completing the Baywalk, passed a $200 million bond to combat sea level rise, supports "trolleys, bike lanes and other mobility options," was part of the Miami Forever Bond to invest $400 million into housing, parks and mitigation and voted to turn Melreese from a contaminated swath of land to a park.
Yeah, about that last one.
That's how Russell justifies his vote to change the zoning and land use for Miami Freedom Park, which is a huge complex of office, retail, a hotel, parking and a 25,000-seat soccer stadium, not just park.
So it was his poll. Can't wait to get the results.