Last minute attacks on Miami candidate Damian Pardo are from dark $$ PAC
Several mailers and text messages have gone out in Miami this week to try to tie District 2 commission candidate Damian Pardo to Commissioner Joe Carollo, who is that toxic.
The weak connections are the financial consultant and human rights activist, who is in the runoff against incumbent Commissioner Sabina Covo, was Carollo's appointment to the city's LGBTQ Advisory Board and that the District 3 commissioner provided funds for Pardo's Gay8 Festival. But the truth is that Carollo appointed SAVE Executive Director Orlando Gonzales to that committee and that Pardo was the "at large" appointment. And the Gay8 Festival is in Carollo's District, which means his office would likely provide financial support to anybody, as he does to other events.
The truth doesn't mean anything in campaigns, however, and these details are lost in text on the mailers: "Get the facts on Carollo's candidate: Damian Pardo," one says. "Siding with corrupt politicians to silence our voices and kick residents out of City Hall."
Read related: Did Miami's Sabina Covo offer Eddy Leal a job in exchange for endorsement?
Except he didn't side with Carollo and actually called for his resignation after the D3 commissioner was found liable for $63 million in a judgement for having violated the rights of Little Havana businessmen. Covo, in contrast, danced giddily next to Carollo at a ribbon cutting ceremony at the Tower Theater after Carollo took over its operations from Miami Dade College.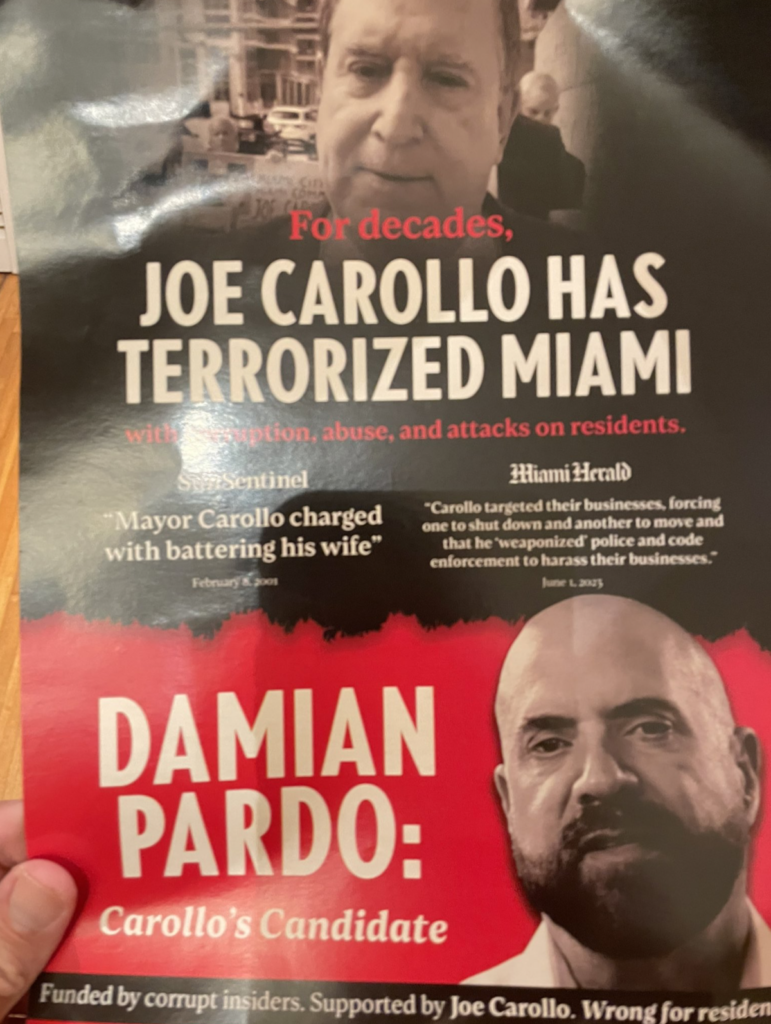 But the most interesting thing about these mailers, which all have the same kind of feel, is that they're funded by Keeping Citizens Informed, a political action committee run by consultant and one-time Absentee Ballot Queen Sasha Tirador, who helped suspended Miami Commissioner Alex Diaz de la Portilla win his seat in 2019 and worked on the county commission campaign for his baby brother, Renier Diaz de la Portilla. She billed more than $175,000 between the two elections.
A look at the campaign finance reports for the Keeping Citizens Informed PAC show that the bulk of the contributions — $113,390 out of $135,790 raised is from companies owned by Tirador and one-time Sweetwater Commissioner Sophia Lacayo, who was removed from office after it was learned she lived outside the city and was charged with perjury for lying under oath. Tirador ran Lacayo's city campaign and her campaign for county commission, which she lost against JC Bermudez in 2022.
In July, Lacayo was arrested on charges of campaign finance violations in that race.
Read related: Commissioner Sabina Covo billboard boasts fight vs corruption — what fight?
Another $10,100 in the Keeping PAC comes from Al Sotero, who worked with Tirador on the Manny Machado campaign in . 2012. Another $5,000 comes from United Citizens Leading Reform, a Tallahassee PAC that lists $6,200 in contributions from two other PACs. One of those is Save Our Schools, which got a $6,163 contribution on Aug. 28 from Florida College Democrats, which seems to have been closed since January. The other, Suncoast Supporters, hasn't reported a contribution since October of last year, from a Lakewood Ranch developer.
So, who is really funding these attack pieces? A call and two texts to Tirador were not returned Monday. But it's hard for Ladra to believe that she and Lacayo are personally invested — to the tune of $23,700 and $89,480, respectively — in keeping Pardo off the dais.
The accusations in the mailers are the same ones made by Covo's consultant, Christian Ulvert, on the Actualidad Radio Contacto Directo morning show with Roberto Rodriguez-Tejera and Juan Camilo Gomez.