Taylor Swift Sings Poignant Song About Grief Days After Tragic Fan Death — WATCH
After a difficult weekend for Taylor Swift, she's back on stage — and sharing a touching moment with her adoring (and mourning) fans.
It was a rough few days for not only the 33-year-old, but her fan base in Rio de Janeiro, as well. Between scorching temperatures, a fan death, and the postponement of a show, the Brazil leg of her Eras Tour certainly didn't go as planned. But on Sunday, the Blank Space singer tried to make the best of it.
Related: Dana Carvey 'Overwhelmed' By Fan Support After Son's Sudden Death
In a fan clip circulating around TikTok, Taylor can be heard singing Bigger Than the Whole Sky, a notable song about grief. The lyrics go:
"You were bigger than the whole sky / You were more than just a short time / And I've got a lot to pine about / I've got a lot to live without / I'm never gonna meet / What could've been, would've been / What should've been you."
See (below), and it's obviously very obvious to make a connection between the song itself and the awful and tragic Swiftie fan death that occurred in Brazil days ago:
As we reported over the weekend, 23-year-old Ana Clara Benevides Machado tragically spent some of her final moments at the Estadio Olímpico Nilton Santos stadium on Friday. Brazilian outlet Fohla de S Paulo noted that she went into cardiac arrest after passing out at the venue. Sadly, she passed away shortly after being rushed to a local hospital.
Taylor addressed the heartbreaking situation later that same night on her Instagram, writing in a Story post:
"I can't believe I'm writing these words but it is with a shattered heart that I say we lost a fan earlier tonight before my show. I can't even tell you how devastated I am by this. There's very little information I have other than the fact that she was so incredibly beautiful and far too young."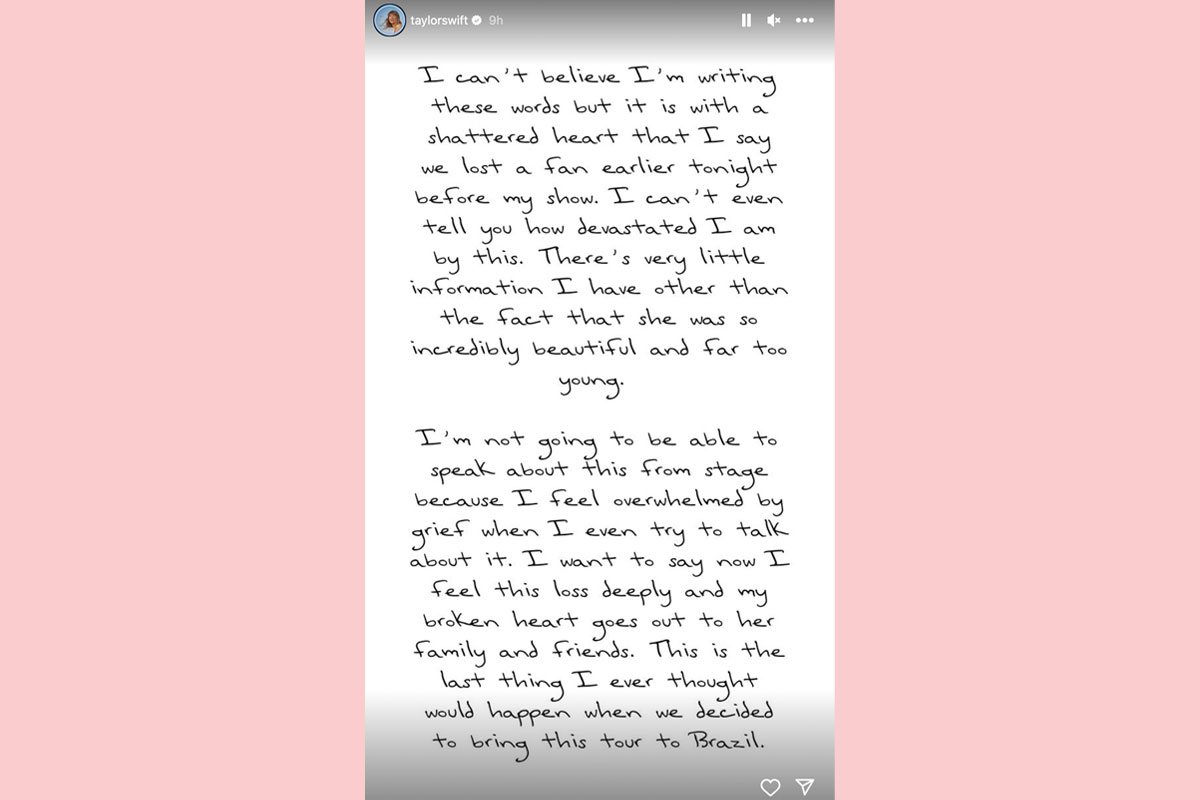 The next day, she announced that she would be postponing her Saturday show due to "extreme temperatures."
After such a devastating turn of events, it was a really thoughtful touch to share a vulnerable moment like this with her fans — especially in honor of Ana. In the comments, fans wrote things like:
"sending so much love to Ana's family"

"Ana brought the rain, she made sure everyone had water tonight"

"This is incredibly heartbreaking"

"ana should've been there to hear it"
Our hearts continue to be with Ana's family during this unimaginably difficult times.
Reactions, Perezcious readers? Let us know down in the comments.
[Images via Taylor Swift & Variety/YouTube]
The post Taylor Swift Sings Poignant Song About Grief Days After Tragic Fan Death — WATCH appeared first on Perez Hilton.