Miami's Christine King wants to rent new district office — at her old day job
Miami City Commissioner Christine King wants an office in District 5, close to the people who elected her. Real close.
King has proposed renting 1,500 square feet of space for $2,500 a month at the Martin Luther King Economic Development Corporation — where she had been president and chief executive officer for 10 years before she was elected last November.
Maybe she misses her office there?
Read related: No runoffs in Miami as incumbents and Christine King score big election wins
At least it's not what she had proposed in April, when the item she had deferred was to rent 6,355 square feet of space for $9,532.50 a month. Apparently, King decided she didn't need that much of an office and was able to knock $7,000 off the monthly price. Such a deal!
The resolution up at this Thursday's meeting would authorize a four-year lease agreement between the city and the non-profit MLK Economic Development Corp. with one four-year option (cocky, ain't she?) and a cap on rent increases at 3% annually. The $2,500 a month comes to about $20 per square foot, which is competitive. Office space in the area rents for between $18 and $26 a square foot, according to a quick online search.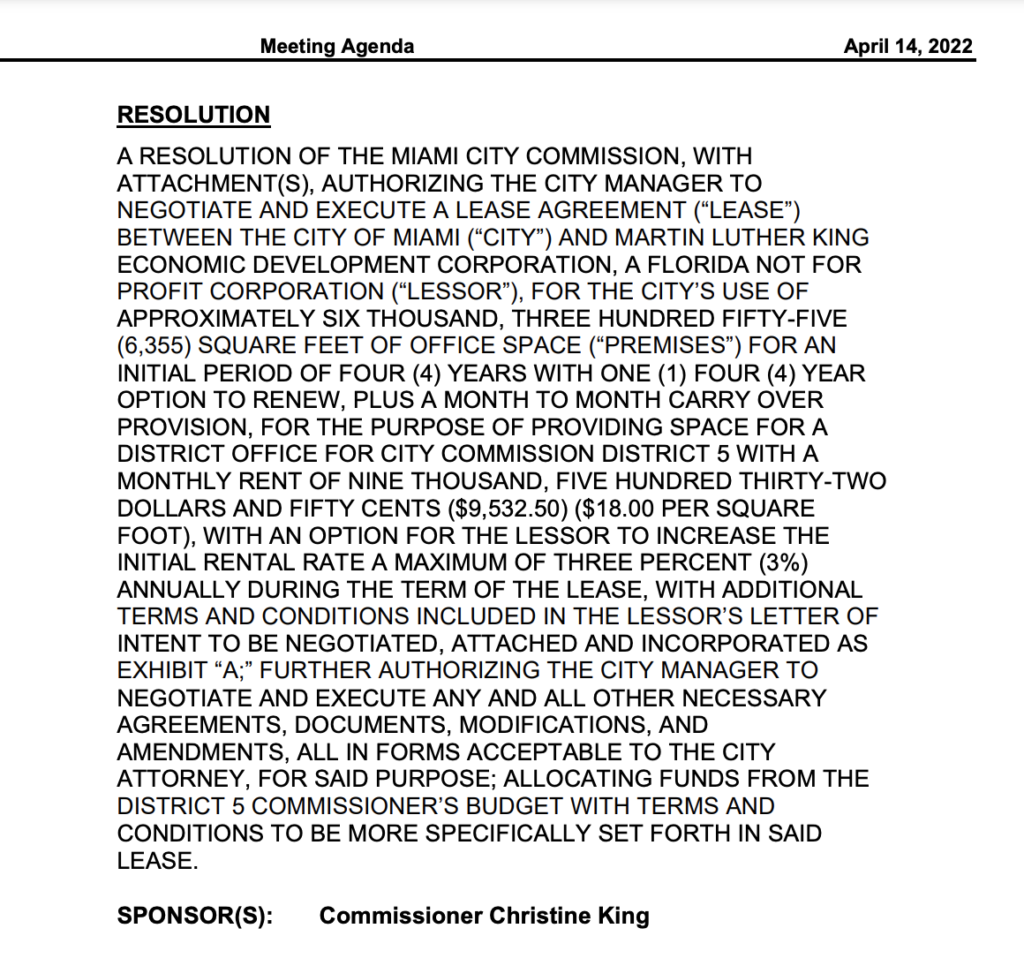 The funds will come out of the commissioner's district budget, but that's not the point.
The purpose of the district office is to provide constituency services closer to the residents.
But there are five "neighborhood service centers" in District 5. One in Overtown, one in Little Haiti, one in the Wynwood/Edgewater area one in the Upper East Side and one in Model City, two blocks and a six minute walk from the MLK Economic Development Corp. There's no space for a commission district office in any one of those? Well then what about the Overtown Park West Community Redevelopment Agency?
And isn't this lease with her old "boss" sort of a conflict of interests?
Neither King nor her chief of staff, Yvette Harrell, responded to calls, texts and emails. Jessica Wade Pfeffer, a PR person, responded to the email, instead.
"MLKEDC is in the heart of Liberty City," she wrote. "It made sense to have a D5 office space there in order to be close to the community she and her staff serve.
"The Commissioner knows firsthand how important this is considering she served that community for over 10 years when she was the President & CEO of MLKEDC," Wade Pfeffer said. "The Commissioner is not an employee of MLKEDC since being elected. Additionally, Commissioner King does not currently have a first or second tier enumerated relationship with MLKEDC."
That makes it all better?
The commission meeting begins at 9 a.m. Thursday at City Hall and can be viewed online here.
King has a second item before her colleagues: A $2 million grant out of federal COVID relief funds to the Bakehouse Art Complex. Ladra doesn't know how it is eligible for this COVID recovery money. But the agenda packet states that the city's ARPA consultant confirmed that repairs and renovations at the Bakehouse — which provides studio residencies, infrastructure, exhibit space and community to promising artists — was eligible.